UKRI Centre for Doctoral Training in Artificial Intelligence, Machine Learning & Advanced Computing

Data Aid
DataAid unites the analytical skills and expertise of PhD students in the Data Intensive CDT and the AIMLAC CDT with charities in need of data support to generate valuable new insights and perspectives on the data they hold. The DataAid programme runs two-day events attended by the CDT student cohorts and charity partners. The first day will see team of analyst working on a series of data questions and challenges posed by the charity partners and the second will provide an opportunity to feed back the key findings. Each event is setup to have up to three charity partners, who will be selected based on the merit of their questions and the potential to make a social impact by addressing them.
A presentation summarising the first year can be found
here
.

For prospective charity partners:
As a DataAid partner you will receive a package of support from your own dedicated team of student analysts, led by Data Champions who will act as your primary contact throughout the programme. The package of support includes:
Support preparing data for analysis (where required).
Support to refine the questions you are seeking to answer from your data.
DataAid event - a two-day long hackathon style event where a team of analysts will work on your data questions.
A presentation deck of findings to share with your stakeholders.
Considerations you will need to make:
Do you have an understanding of the questions you are seeking to answer from your data?
Are you interested in looking at your impact data, fundraising data or a combination of both?
Do you have enough robust data to generate meaningful insights?
Are you able to share your data with a third party in secure environment?
Are you able to anonymise your data?
Is there open source data you are interested in considering as part of the programme?
For interested students:
The DataAid events are run as CDT training events and will be organised and funded as such. The training outcomes of DataAid events include:
Gaining experience working on "real world" data.
Working in a team to tackle a data related problem.
Communicating technical outcomes to non-technical people.
Using techniques and skills learnt through other training event that may not directly apply to your PhD.
Learning techniques and skill for students across both CDTs and all cohorts.
There is an additional opportunity for you to volunteer to be a Data Champion. The duties of Data Champions include:
Being the main contact point for a charity partner before and during an event.
Preparing and cleaning the data form the charity partner.
Refining the data questions the charity partner has.
Sourcing any open source data to include in the analysis.
Note: all student activities as part of DataAid will be fully supported by the DataAid committee and the CDTs.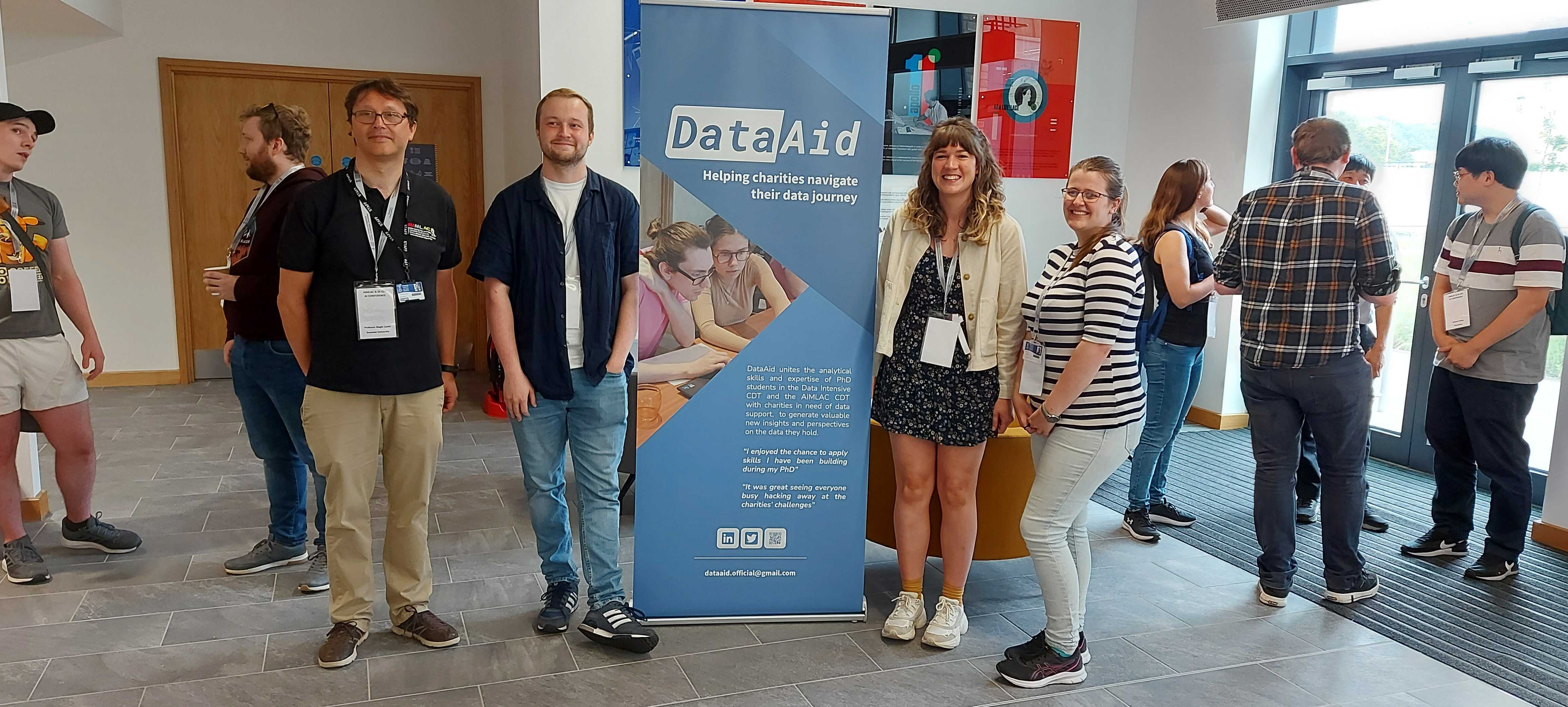 DataAid events:
DataAid's debut event took place on January 21 and 22, 2021, and supported the following three charities: The Fairtrade Foundation, The Diana Award and Chance to Shine. See
here
for a press release.
The second DataAid event took place on March 30 and 31, 2022, and supported the following three charities: Go Beyond, Carers Trust and SERICC.
The third DataAid event took place on March 14 and 15, 2023, and supported the following three charities: InKind Direct, Magic Breakfast and SUDEP.
Contact us:
Benjamin Henderson: b.henderson@bristol.ac.uk
Hattie Stewart: hattie.stewart@bristol.ac.uk